Our location
Situated in the north of the Abruzzo region, near the borders to the region Marche, Alba Adriatica is the most known seaside of the coast of northern Abruzzo.
Its silver beach and the crystal clear sea satisfy the dreams of every holidaymaker; besides it is the perfect place to spend holidays with children and to relax and young people can have tun at all times of the day.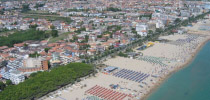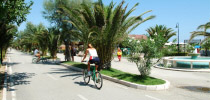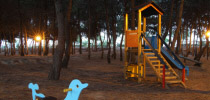 The clear and sandy shallow water is what you can desire to spend unforgettable holidays: children will enjoy it and you will feel free and at your ease.
To have a stroll an the silver sandy beach or an the waterline with the waves washing your feet softly, to sway in the melody of the waves, to dive in the inviting sea to relax and to recharge one's batteries.
You may choose between the equipped or the free and cleaned beaches and the beach beside the luxuriant pinewood, where the delightful smell of the pines will let you live a Mediterranean island atmosphere.
Besides this seaside makes it possible to practice any type of water sport such as sailing, wind surfing and much more with a lot of tun.