The fish dishes are simple and tastefully. Here are two special dish for gourmets:
Spaghetti alla Chitarra
Homemade spaghetti (macaroni alla chitarra), which originally about guitar strings were pulled and therefore get your square shape.
Taste particularly with fresh tomato sauce or clam sauce.
Our kitchen offers homemade pasta varieties such as fusilli, conchiglie, Strozzapreti, Casereccia with vegetables or mushrooms or meat sauce.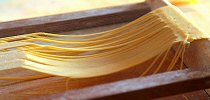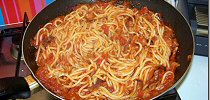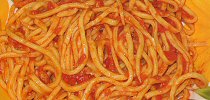 Brodetto
Excellent, always fresh, small and tasteful, the fish from the Adriatic.
This typical dish is cooked a delicious fish soup with seafood, shrimps, hake, squid, sole, dragon head, smooth dogfish, mullet, mussels, and clams.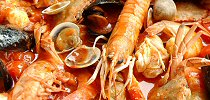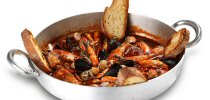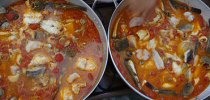 Wines in the Abruzzi
Montepulciano d' Abruzzo
The vine Montepulciano is among the most important red grape varieties of Italy.
Wine with full structure and nice fruit flavors, fits besinderes to veal, roast veal and salami.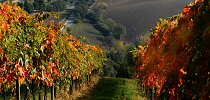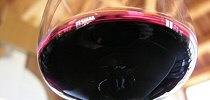 Trebbiano D'Abruzzo
The Trebbiano is grown on the entire Adriatic coast and produced, but in the Abruzzo by the sun, hills and earth and a balanced blend of grapes he gets a pleasant and delicate flavor.
It is drunk cold.
Especially with fish dishes and appetizers.
Passerina d' Abruzzo
A delicious white wine, very tastefully great to fish and pasta.
Excellent with pecorino cheese from local farmers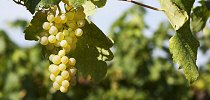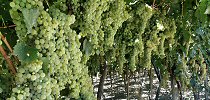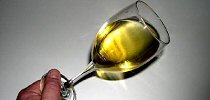 Cerasuolo d' Abruzzo
the wine Cerasuolo is a varietal Rose 'from Abruzzo, Made from grapes of Montepulciano d'Abruzzo.
His character is a Erdbeerton with a floral bouquet.
It is drunk cold.
Especially suitable for salami, ham, lamb and homemade pasta with tomato sauce.